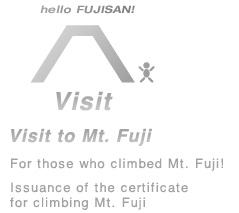 For those who climbed Mr.FUJI! Issuance of the certificate for climbing Mt.Fuji.
This is an internet service for the publication and ordering of a certificate for visit to Mt. Fuji.
We make your certificate for visit to Mt.FUJI page, and you can share to twitter and facebook the page.
(※We will save about one year your page.)
Please Order !
Price ¥500(税抜)/1 letter


By accessing this website, noboru noboru FUJISAN and its contents, including the "Certificate for Climbing to the Summit of Mt. Fuji," and the "Commemoration Letter for Climbing Mt. Fuji," you agree to the terms set out by J-Bound Inc, outsourced to by Yamanashi Prefecture. Those who wish to be issued the certificates must agree to the following terms and conditions.
By accessing and using the Website and its services you are agreeing to these Terms of Use, which sets forth the terms and governs your use of the Website.
[Terms of Use]
Terms of Use for the certificate for climbing to the summit of Mt. Fuji
The certificate, an official document approved by Japan Mt.Fuji Association, is a paid service for those people who reach the summit of Mt. Fuji.
Eligibility for the certificate will be judged based on the picture submitted with the application form and will be endorsed by the Japan Mt.Fuji Association. We will issue a certificate to those who pass inspection.
We cannot issue a certificate to those who clearly did not climb to the summit, or those who submit an unclear picture or do not have other evidence of reaching the summit.
The certificate will be issued in accordance with the terms laid out by this company, but will be suspended if found in violation of the terms as laid out in this site, or in cases of failure to pay. Moreover, if any violations are discovered after the certificate is issued, you will be asked to return the certificate, and your fees and postage will not be returned except in certain circumstance.
当証明書をご注文頂いた方に対し、ご本人の同意がある場合、注文時に入力頂いたメールアドレスへ当サービスや、富士山に関連したお得な情報をメール配信させて頂く場合があります。
We also prohibit selling the certificate to a third party.
In the even of a natural disaster, or other reason, there may be changes, shortages or stoppages to the services, without notice.
当証明書は、任意での登山証明書発行になり、他証明に対して効力のあるものではありません。
Use of Social Network Services (hereafter referred to as SNS)
The contents of this site are also linked with various SNS. The rules of the SNS also apply to the rules listed on this site. Use at your own risk
It is prohibited to submit things that can cause harm or injury to another, or that go against the public order.
In the event a transgression is discovered, the services will be stopped, and depending on the contents, the subject matter may be reported to the authorities.
Use of your Personal Information
Some of your personal information will be shared with an outside third party. In this case, appropriate measures will be taken to ensure that your personal information is not leaked.
The personal information written on the form (postal code, address, name, telephone number and age) will be managed by an outsourced contractor, and will be used for age verification, as well as to contact you in the case of your eligibility. Moreover, other personal information collected will be used for statistical purposes, and cannot be used to identify any individual.
Within the limits listed above, our company may entrust your personal information with an outside third party company. In this case, appropriate measures will be taken to ensure that your personal information is not leaked.
In addition, we follow the conventions established by the Japan Mt.Fuji Association regarding the privacy of your personal information.
Japan Mt.Fuji Association Privacy Policy
http://www.yamanashi-kankou.jp/about/privacy.html
Contact Information
The management outsourcing information of noboru noboru FUJISAN
J-Bound Inc
Hours: AM10:00-PM 17:00 (excluding Saturdays, Sundays and national holidays)
E-mail:info@fujisan3776.com