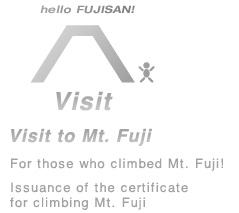 For those who climbed Mr.FUJI! Issuance of the certificate for climbing Mt.Fuji.
This is an internet service for the publication and ordering of a certificate for visit to Mt. Fuji.
We make your certificate for visit to Mt.FUJI page, and you can share to twitter and facebook the page.
(※We will save about one year your page.)
Please Order !
Price ¥500(税抜)/1 letter
Sorry.
Due to the large number of applications, we are currently suspending orders.